Design thinking & innovation
We help you making sense of complex scenario's
A mindset that is open to ambiguity help us provide guidance through the multiple constraints and relations that exist, maintaining overview of what factors will make for a successful new solution. This is often difficult to do from an internal point of view.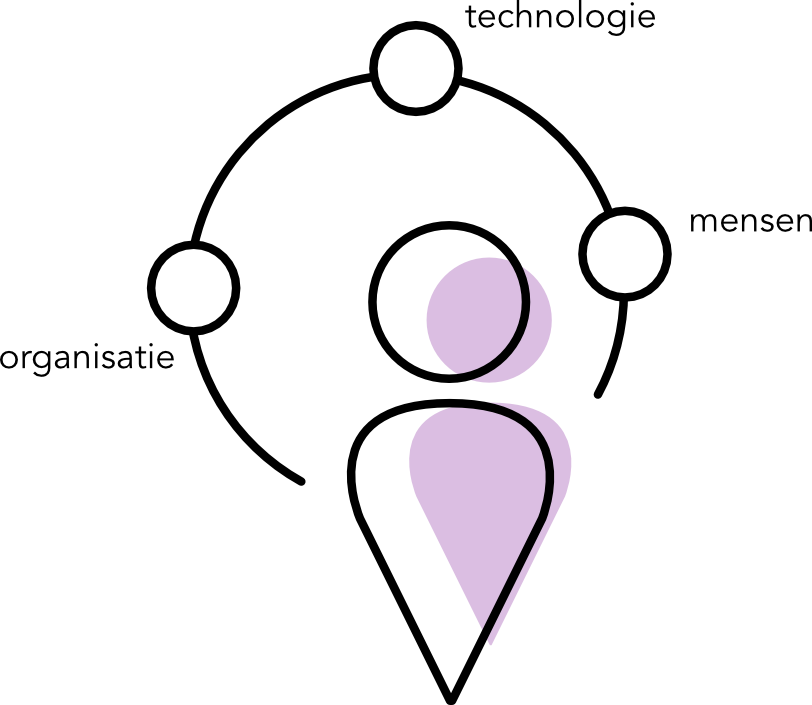 In the users' shoes
Design thinking is a process based on empathy for the users and uses an iterative approach to substantiate a change before it goes live.
Empathy means understanding the strengths and weakness a context offers by immersing oneself in the user's shoes. A design thinker is like an agent that represents every stakeholder involved in a situation and makes sure everyone's needs are taken care of as much as possible in the moment the situation will change. In complex systems this means embracing the complexity and making sense of it.
The process
The design thinking process define goals and gives form to solutions with concepts. Any concept can be generated from this approach: a new interface design, a new way of working, a new flow. No matter what the solution is, creative methods exist to design and evaluate them in the specified context. The use of an iterative approach which involves the users, breaks the evaluation of a solution down to the very essential: this way the end product is built on multiple tests and has a higher chance to go live smoothly. From a very early stage quick tests can be done, for example with role play or storyboards, to more complex evaluations of interface design prototype.
The whole process does not answer the question 'what feature do you need' but 'what do you want to accomplish with the new solution'?
Our tools
Example of tools that we use are: context and stakeholder mapping, process blueprinting, scenarios, co-creation session, brainstorming, mock-up and prototype evaluations.
All these tools make great use of visual design to ease the communication of complex information and increase a shared understanding within all the involved parties.